RV Service for Your Airstream
Award Winning Service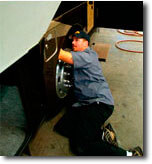 We know that RV repairs and mainenance can be stressful, but with our RVIA certified technicians and Airstream rebuilders, rest assured that your RV is getting top care. At Duval Airstream, we put you first by working hard to keep your RV operating safely and efficiently so you an travel worry-free. We will service your RV quickly and will inform you of the cost by providing an estimate and notice of any additional repairs
Our service does not end there. We invite you to have a seat in our comfortable lounge, enjoy a cup of coffee or bottle of water, or enjoy browsing our selection of Airstream touring coaches. If your schedule will not allow you to wait at the dealership, we will call you when your RV is ready for pickup.
Why choose us for all your Airstream Service Needs?
20 Bay Service Center
Body, Collision and Paint Center
RVIA Certified Techs
Full RV Refurbishing and Detail Center
Factory Certified regional RV repair center
RV EXPRESS SERVICES
Appliance Check
RV Oil Change (Gas)
RV Oil Change (Diesel)
LP Inspection
Battery Check
Battery Replacement
Water System Check
RV ROOF SERVICES
Roof Inspections
Roof Cleaning
Roof Repair
Roof Sealing
Roof Replacement
FREE RV COURTESY INSPECTION
Engine Oil Condition and level Check
Generator Oil Condition and level Check
Tire Condition and Wear
Visual Roof Inspection
BODY SHOP, COLLISION & CUSTOM SERVICES
Fiberglass Repair
Structure Repair
Metal Fabricating
Painting
CAD Design Capabilities
GENERAL RV SERVICE
Winterizations
RV Orientation
50 Point Inspection
Electrical System Maintenance
Generator Oil Change
A/C Service
Wheel Bearing Pack
Refrigerator Service
Water Heater Service
Water System Check
Oven/Range Service
Appliance Check
Furnace Service
LP Inspection
Generator Service
RV Wash
Please call our Service Department at 904-783-0313 to schedule your service work.