Airstream History - An American Icon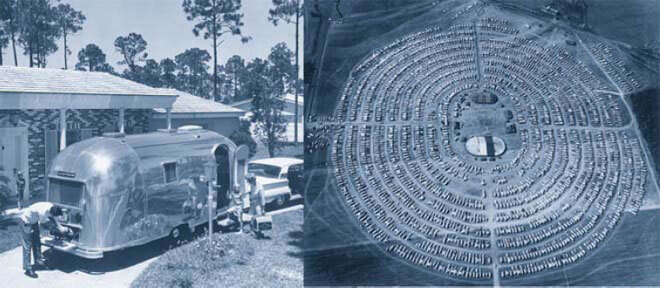 One Dollar Each
In 1929, Wally Byam purchased a Model T Ford chassis, built a platform on it, towed it with his car to a campsite, and painstakingly erected a tent on it. The effort was tiresome and unpleasant, especially when it rained. Spurred on by his first wife Marion, Wally built a tear-drop-shaped permanent shelter on the platform that enclosed a small ice chest and kerosene stove. He then published an article that ran under the headline, "How to Build a Trailer for One Hundred Dollars." Readers wrote Wally for more detailed instruction plans, which he sold at a cost of one dollar each. The response was extraordinary, earning him more than $15,000. After building several trailers for friends in his backyard, "the neighbors started complaining that I was making too much noise," Wally observed, "so I went out and rented a building." Airstream Trailer Company went into full production in 1932, when fewer than 48 trailer manufacturers were registered for business. Five years later, nearly 400 companies squared off against each other. Today, of those 400, only Airstream remains.

Visionary, Genius, Businessman, Master Promoter, Pied-Piper
Who was Wally Byam? Suffice it to say that he was complex. He knew who he was, what he wanted and where he was going. He was a visionary who grasped the societal urge to journey and commune with like-minded people. He was a manufacturing genius who understood the emotional pull of the Airstream's design as much as its functionality. And he was a businessman who knew that success was defined not by short-term profits but by endurance.
Wally also was a master promoter - an audacious showman who waxed rhapsodic on radio and television, and posed for wild photographs. Charles Kiefer, who worked in Airstream's Way of Life department in the 1950s, said Wally "did not fear expressing his honest opinion whether it bruised someone's ego or not." Others said he inspired them to achieve their dreams. "He gave me the opportunity - the brashness - to imagine what could be done, and believe it or not, to see it happen," said Andy Charles, Airstream chairman in the 1960s. Wally's cousin Helen Schwamborn said he "had an uncanny way of giving confidence. When he said you could do it, you didn't question him, you did it." Charles Manchester, Airstream president from the 1970s, said Wally "was a dreamer and he dreamed big. But he also knew that ideas only have real value when effective action is taken to embody them." Wally in person was larger than life. While his suits were tailored in tasteful blues and tweeds, he liked to wear Wellington boots and plaid shirts with them. His choice of headgear was a blue beret, which he had spied in France. He wore the beret on his first Central American caravan, and it was quickly adopted by fellow caravanners as a means to identify each other in a crowd. The blue beret became a caravan essential. While Wally's fashion taste was offbeat casual, his office at Airstream was a "nightmare of disorder," recalled Stella Hall Byam, Wally's second wife.
The walls were covered with clippings of all kinds - religious and philosophical scraps; pictures of people, things, and even his burros. He slept one or two hours at a time, then worked until he took another nap. "He would often excuse himself, go to his trailer and nap for 30 minutes," his cousin Dale Schwamborn recalled. "He was always active, always moving fast. I don't think he ever did anything slow. I don't think `impatient' would be the word for it, but he didn't like to repeat things, so he said things very clearly so people understood him."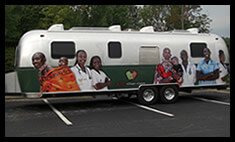 Let's Only Make Improvements
Anecdotes are legion about Wally's passion for product innovation. "Let's not make changes, let's make only improvements," was his familiar refrain. In quest of these, Wally scoured the world looking for efficient hot water heaters, door hinges, butane lamps, chemical toilets, small porcelain sinks and chairs - myriad large and small items that would make an Airstream more functional and livable. In Europe he discovered a heating system that took up little space but gave off plenty of radiant heat. He borrowed the design, improved it, and renamed it the Byam Burner. In France he spied a compact gas refrigerator manufactured by Dometic. He arranged for the refrigerators to be installed in Airstreams, making an end to ice-electric refrigerators that required travelers to be constantly on the prowl for ice. More than 50 years later, Dometic still supplies refrigerators to Airstream.
When nothing suitable was available on the world market, Wally urged someone to manufacture it. In 1954 he persuaded Max Bowen, president of Bowen Water Heater Co., to develop the first workable hot water system for a trailer. Other innovations were brought directly to him by customers. Frank Sargent, an engineer, approached Wally in 1960 with a novel toilet valve that used steam pressure for flushing waste into a holding tank. Sargent's Thetford toilets have been used in Airstream models since the 1961 model year. Wally tallied several inventions of his own, including the idea of a flat-sided underbelly to reduce wind resistance, and an 18-by-40-inch escape window in the back of the trailer in case the side door was jammed.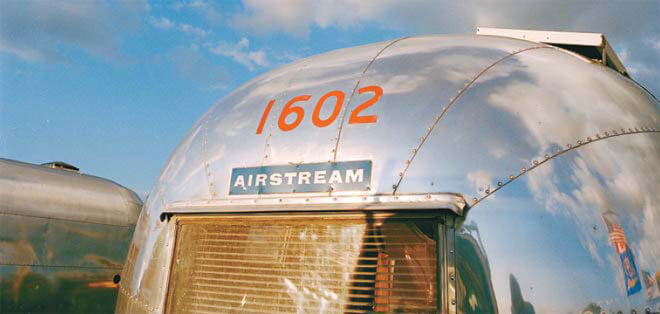 Quality, Innovation, and Design
The list of "firsts" in the trailer industry attributed to Airstream is a long one, including the first holding tank, the first ladder frame, the first pressurized water system, and the first fully self-contained travel trailer - the 1957 Airstream International. "Self-containment" was a term Wally had coined to describe full freedom from external trailer hookups, such as outside sources of power. He once said he wanted to build a trailer that "my lovely old grandmother might tow ... to the middle of the Gobi Desert, there to live in gracious metropolitan luxury ... without reloading, refueling, recharging or regretting." And as you can see, he did. Nearly 80 years after its backyard beginnings, Airstream maintains an unwavering commitment to the tenets upon which it was founded: Quality, Innovation, and Design.
Airstream presents "Live Rivited" stories starring Tim Flannery!